Nurse Anesthesia Admission
Admission Process
Applications accepted throughout the year and close on August 31st, 2023. Admission interviews are conducted in the Fall for admission to the next starting class. To apply to the Nurse Anesthesia Program you must request and complete our application. You may request our application by using the form below, or by calling us:
Click here

to request application.

Complete on online request for the application addendum package.
Selection Criteria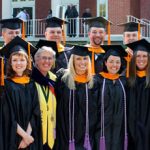 Total enrollment of anesthesia students is limited. The admission of each class will be based on the "best qualified" as determined by the Admissions Committee. Selection will be based upon the following criteria:
Admission Requirement
Admission to the doctor of nursing practice, nurse anesthesia program requires the student to meet the minimum admission requirements for graduate study of the university and the following requirements of the College of Nursing:
One official transcript from each college or university attended
A baccalaureate degree in nursing from an accredited program
A preferred minimum undergraduate BSN GPA of 3.0
Satisfactory performance on Test of Foreign Language (TOEFL) scores where English is not the first language. Students on foreign student visas must present evidence of professional standing in their respective countries.
Acceptable score on the Graduate Record Examination (GRE) within past five years (Preferred Combined V&Q

at least

300 and analytical score

at least

4)
Current non-restricted license to practice as a registered nurse (RN) in order to apply (Must have current non-restricted license to practice as a RN in North Carolina upon admission to the program)
Must have one year adult critical care experience as a RN
Current ACLS Certification required for application and PALS Certification required prior to admission
A statement describing the applicant's interest in graduate study, career goals and the DNP degree's relationship to those goals
Four professional references (two on forms provided in nurse anesthesia addendum packet)
Completion of a supplemental nurse anesthesia admissions addendum packet (this packet can be obtained by calling 252.744.6373 )
Courses in physiology and chemistry (general chemistry, biochemistry and/or organic/biochemistry required) within five years are highly recommended
A personal interview with a member of the Nurse Anesthesia Admissions Committee
A course in statistics with a grade of "C" or higher
Current CCRN Certification (preferred)