RIBN Admission Requirements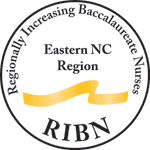 Students must meet the following criteria in order to be considered for the program:
Four units of English
Two units of social studies (one in US History)
Four units of mathematics (algebra I, algebra II, geometry, and an advanced unit of mathematics beyond algebra II)
Three units of science (life science, physical science, and a laboratory course; biology and chemistry preferred)
Two units of a language other than English
To be eligible for admission to the RIBN program a student must have a cumulative unweighted GPA of 3.0 on a 4.0 scale.
Testing Requirements
Students must take either the SAT, ACT or  ATI TEAS Version 7* for admission to RIBN.
Pre-Admission Test Scores
| Exam Component | SAT |
| --- | --- |
| Reading/Writing | 500 |
| Math | 530 |
| Total Score | 1030 |
| Exam Component | ACT |
| --- | --- |
| Reading | 22 |
| English | 21 |
| Math | 22 |
Prior to entering year two of the ENC RIBN curriculum, each student must have a criminal background check.
*TEAS: The ATI TEAS Version 7 minimum score requirements are determined by each community college that requires the TEAS exam.  Please check with your community college of choice for ranking criteria for TEAS exam.